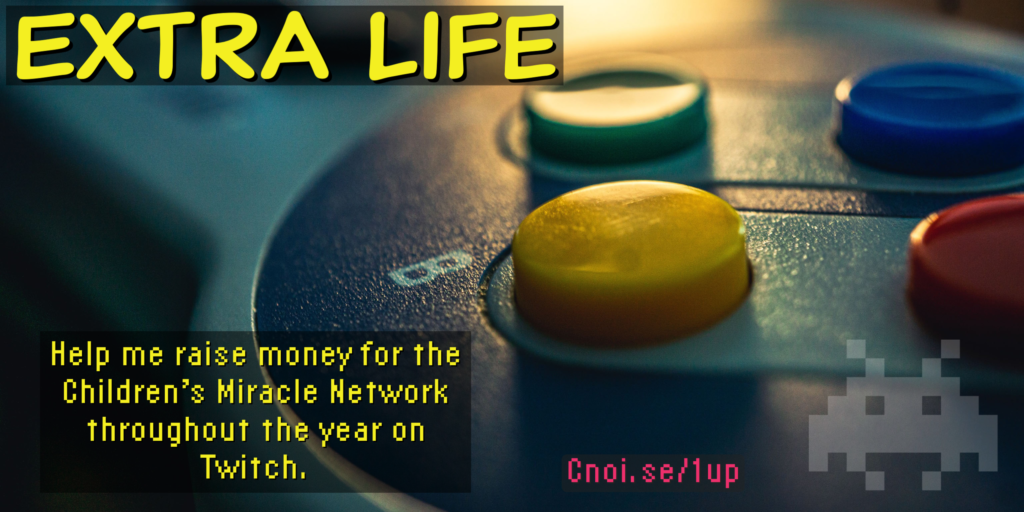 Update: I've had to cancel a dedicated day to do this. Sorry!
I thought I'd try something out. Maybe it'll be a way for me to finally motivate myself to get my streaming channel on Twitch off the ground. I'm going to try to raise money for The Children's Miracle Network Hospitals by doing a streamed day of gameplay.
I think the official day is the 2nd of November, but I'm going to stream my gameplay on the 14th from 5 am until midnight. There's still a chance that the date and time will change but I'll still stream for 18 or so hours. I'll be streaming on my slightly-unloved Twitch channel. Sorry, I'm way too old to stay up a full 24 hours. Haha.
Update: I'm no longer doing a dedicated day because my work and study schedule is just too cramped at the moment. I've always said that the date can't be set in stone. Take a look at the streaming schedule on Complicated Noise for any planned events. Thanks!
My goal is to raise a minimum $100 USD for them. I think that's a nice goal. If you'd like to help me reach that goal, go see me on Extra Life. As an incentive, I'm also attaching a promise to instill some bonuses to you on my website. If you donate, please let me know and I'll get you set up with a few account goodies!
This fundraising opportunity is largely USA-based and know that sometimes the currency exchange to United States dollars isn't that great (and attracts exchange fees, etc). If this is the case, please donate to a reputable charity in your country and in your own currency.
Thanks for supporting me (if you choose to). I am hoping to do some good in this world. I have always avoided fundraisers because I have this belief (or fear, really) that I won't raise a single dollar.
I'll see you then! I talk a little bit about this fundraising opportunity in my next podcast episode (which is available to those with an account here).